Open Times
| | |
| --- | --- |
| Monday and Tuesday | Closed |
| Wednesday | 11:00am to 6:00pm |
| Thursday | 11:00am to 6:00pm |
| Friday | 11:00am to 10:00pm |
| Saturday | 11:00am to 8:00pm |
| Sunday | 11:00am to 6:00pm |
Tasting Information –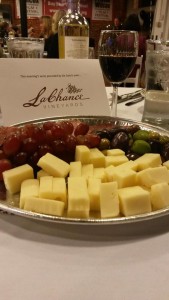 At LaChance Vineyards, we believe that – while fancy written descriptions and tasting notes work for some – most of us know what we like when we taste it. As a result, the friendly and knowledgeable staff in our Tasting Room is always ready to help you discover the perfect wine for your palate.
Here's how our tastings work:
For $7.00, you will receive a keepsake LaChance Vineyards wine glass, and five tokens. Each token may be redeemed for a one ounce pour of wine including our Premium wines. After you complete your tasting and determine which of our wines you prefer, additional wine may be purchased by the glass or bottle.